Are you considering creating YouTube shorts? Do you want to know if you need tags for your YouTube shorts? Well, you've come to the right place! In this article, we will discuss the importance of tags for YouTube shorts and how to optimize your shorts for maximum visibility. So, let's dive in!
Why Are Tags Important for YouTube Shorts?
Tags play a crucial role in improving the discoverability of your YouTube shorts. They act as keywords that help YouTube's algorithm understand the content of your shorts and match them with relevant search queries. When you add relevant and effective tags to your shorts, you increase the chances of them appearing in the search results and gaining more views.
Tags also help categorize your shorts and enable YouTube to recommend them to users who have shown interest in similar content. So, if you want your shorts to be seen by a wider audience, using tags strategically is essential.
How to Choose the Right Tags for Your YouTube Shorts?
Now that we understand the importance of tags, let's discuss how to choose the right ones for your YouTube shorts:
1. Be Relevant
Make sure your tags accurately represent the content of your shorts. Use specific keywords that describe what your video is about. For example, if you have a short about "how to make a DIY face mask," relevant tags could include "DIY face mask tutorial," "easy homemade face mask," and "skincare tips."
2. Do Keyword Research
Carry out keyword research to identify popular search terms related to your video's topic. Tools like Google Keyword Planner and YouTube's own search suggestions can help you find relevant keywords. Include these keywords as tags to increase the visibility of your shorts.
3. Consider Long-Tail Tags
Long-tail tags are specific keyword phrases that have a lower search volume but higher relevance. While short and broad tags might have more competition, using long-tail tags can help your shorts stand out in a crowded space. For instance, instead of using the tag "basketball," you could use "basketball dribbling techniques for beginners."
4. Analyze Your Competitors
Check out the tags used by your competitors who are creating successful YouTube shorts. This can give you insights into what tags are working in your niche. However, avoid using the exact same tags as your competitors; instead, use similar tags and add your unique spin to them.
5. Use Specific Tags
Avoid using generic tags that are too broad, as they may not help your shorts in getting the visibility they deserve. Instead, use specific tags that accurately describe the unique aspects of your shorts. This will ensure that your content reaches the right audience.
How to Add Tags to Your YouTube Shorts?
Adding tags to your YouTube shorts is a straightforward process. Here's a step-by-step guide to help you:
1. Navigate to YouTube Studio
Go to YouTube Studio by clicking on your profile icon in the top right corner of the YouTube homepage and selecting "YouTube Studio" from the dropdown menu.
2. Select the Video
Choose the YouTube short that you want to add tags to from your list of uploaded videos. Click on the video to open its settings.
3. Edit Video Details
Under the "BASIC" tab, you will find an option to edit the video details. Click on it to proceed.
4. Add Tags
In the "TAGS" section, you can add tags relevant to your YouTube short. Separate each tag with a comma. Remember to follow the tips mentioned earlier to choose effective tags. Once you have added the tags, click on the "SAVE" button to save your changes.
Conclusion
Tags are an essential aspect of optimizing your YouTube shorts for better discoverability. By choosing the right tags and incorporating them strategically, you can increase the visibility of your shorts and reach a wider audience. Remember to be relevant, do keyword research, use long-tail tags, analyze your competitors, and be specific with your tags. By following these practices, you'll be on your way to creating YouTube shorts that attract more views and engagement.
FAQs (Frequently Asked Questions)
1. Are tags the only factor that determines the visibility of YouTube shorts?
No, tags are not the only factor. Other factors like the title, description, thumbnail, and overall engagement of your shorts also influence their visibility.
2. Can I change the tags of my YouTube shorts after they are published?
Yes, you can edit the tags of your YouTube shorts even after they are published. Simply navigate to YouTube Studio, select the video, and make the desired changes to the tags.
3. How many tags should I add to my YouTube shorts?
YouTube allows you to add up to 500 characters worth of tags to your shorts. However, it is recommended to use a mix of specific and relevant tags instead of filling the entire character limit.
4. Should I use popular tags even if they are not entirely relevant to my shorts?
No, it is best to use tags that are directly relevant to your shorts' content. Using popular tags that are unrelated may attract unrelated traffic to your shorts, resulting in low engagement and audience retention.
5. Can tags alone guarantee the success of my YouTube shorts?
While tags are important for improving the discoverability of your shorts, other factors like the quality of your content, audience engagement, and consistency in uploading also play a significant role in the success of your YouTube shorts.
If you are searching about How to extract tags from youtube shorts using Trendingtags – Trendingtags you've visit to the right place. We have 15 Pictures about How to extract tags from youtube shorts using Trendingtags – Trendingtags like How To Youtube Shorts | How To Add Description, Tags | How To Create, YouTube Tags: The Complete Guide for Marketers | Sprout Social and also YouTube Shorts chega ao Brasil – Tecnologia e Games – Folha PE. Read more:
How To Extract Tags From Youtube Shorts Using Trendingtags – Trendingtags
trendingtags.io
YouTube Tag Generator Tool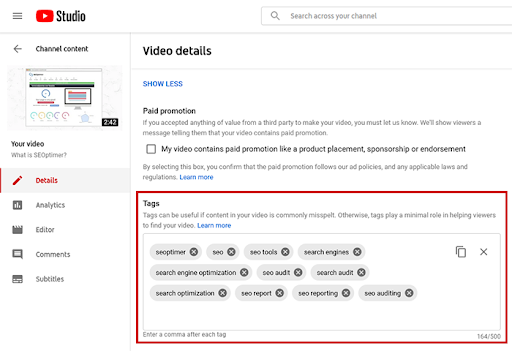 tuberanker.com
YouTube Shorts Chega Ao Brasil – Tecnologia E Games – Folha PE
www.folhape.com.br
chega
YouTube Tags: The Complete Guide For Marketers | Sprout Social
sproutsocial.com
YouTube Shorts Arrive Pour Tous En France Avec Des Nouvelles
frandroib.blogspot.com
How To Make YouTube Shorts Video – Step By Step Guide
justhelpline.com
#tags For Youtube Video |#tags For Shorts Video#tag Kaise Lagaye
www.youtube.com
Do You Need Tags For YouTube Shorts – YouTube
www.youtube.com
YouTube Shorts Arrives In Nigeria
www.glamtush.com
glamtush kwa kutolewa watumiaji dola milioni monetized alert already
How To Youtube Shorts | How To Add Description, Tags | How To Create
www.youtube.com
Youtube 'shorts' – Know Everything Here – Gossipfunda
gossipfunda.com
shorts gossipfunda
YouTube Shorts Beta 已於全球推出 – 流動日報
www.newmobilelife.com
YouTube Shorts Will Pay Up To R$50,000 Monthly To Creators – Somag News
www.somagnews.com
3 Steps To YouTube Tags – Music 3.0 Music Industry Blog
music3point0.com
tags music steps
YouTube Tags | How To Make/get Tags – YouTube
www.youtube.com
tags
#tags for youtube video |#tags for shorts video#tag kaise lagaye. Youtube tag generator tool. How to extract tags from youtube shorts using trendingtags